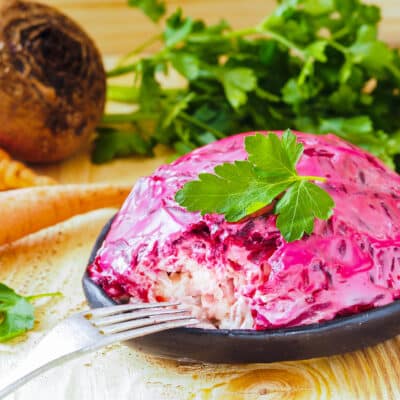 Herring Under a Fur Coat
Just like olivie, vinaigrette, holodets and borsch, Herring Under a Fur Coat, seledka pod shuboi, is a holiday staple. Everyone has their own recipe, which might include hardboiled eggs, fresh apples, greens, cheese and more. They might layer their ingredients in a different order or decorate it in different ways.
The classic version is made with pickled herring and boiled vegetables, slathered in a large amount of mayonnaise, which makes the salad delicious but caloric. If you're concerned about that kind of thing, you can substitute plain yogurt for mayonnaise, though of course, it won't be quite the same.
You can also make a vegetarian version of this salad, called Sea Under a Fur Coat, by replacing the herring with seaweed.
Ingredients
3

eggs

hardboiled

1

potato

5 to 6 ounces

1

carrot

1

beet

1

apple

½

an onion

½

lb

pickled herring fillet

vinegar

optional, to taste

1

cup

mayonnaise
Instructions
Boil the potato (in its skin), carrots and beets, until you can easily pierce them with a knife, about 20 minutes; cool and peel them.

Coarsely grate vegetables, apple and eggs, each separately without mixing. Peel onion, cut into thin half-rings and coarsely chop rings.

Finely chop herring fillet.
Layering
Put a solid layer of chopped herring on an oval or elongated dish, top with an even layer of onions. You can also sprinkle this layer with vinegar, to taste.

Add layer of potatoes (optionally salted to taste), then cover thoroughly with a layer of mayonnaise. Use more than you think you'll need because it will soak into the layers. Repeat with carrots, eggs, apple and beets.

Allow salad to sit for 30-60 minutes. Garnish and serve.
Notes
For a taller salad, double ingredients and repeat all layers.