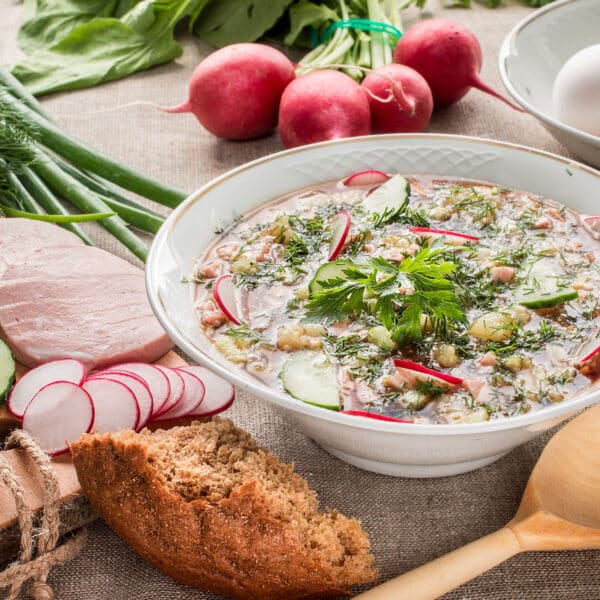 Okroshka
Refreshingly cold okroshka – a traditional Russian and Ukrainian soup – is one of the most popular dishes to eat during the hot summer months. The word comes from the Russian verb kroshit' (to crumble) or the noun kroshka (crumb). Recipes vary from region to region, but the essence remains: you crumble all the ingredients into a pot, and then pour a cool, tangy, refreshing liquid, such as kvass, over them. The key is to avoid the dark, sweet kvass you normally find in Russian supermarkets. If you can find it, use white kvass, which is more sour. Instead of kvass, you can also use kefir, whey, or even water (sparkling or flat).
Ingredients
8

oz

bologna

2

potatoes

about 5 to 6 ounces each, boiled with the skins on, then peeled

3

eggs

hard boiled and peeled

2

cucumbers

3 to 4

scallions

green parts, chopped

1 ½

qts

whey, white kvass, or half kerif/half water mix

1

lemon

Salt

to taste

Sour cream

for serving
Instructions
Chop bologna, potatoes, eggs, and cucumbers into ⅓-inch pieces.

Mix them lightly in a big bowl; add scallions and dill.

Pour kvass, whey, or kefir into the bowl. If using whey, squeeze lemon into it. Add salt, and mix all ingredients.

Serve with a dollop of sour cream.