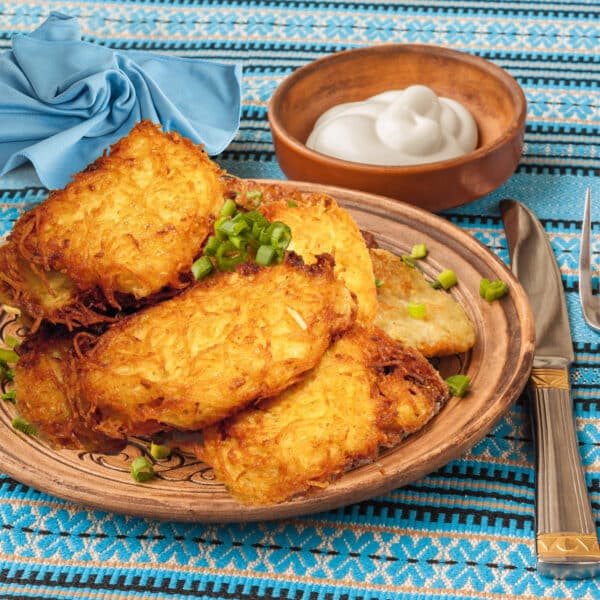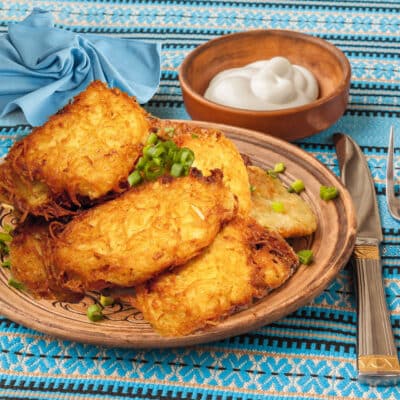 Deruny
The essence of deruny lies in their simplicity: grated raw potato, mixed with flour, egg and optionally garlic, fried until golden and crispy. Though they are considered a traditionally Belorussian dish – called draniki – they are commonly found not only in Russia and Ukraine, not only all over Central and Eastern Europe, but all over the world under many different names:
Belarusian, Russian – draniki,
Ukrainian – deruny,
Polish – placki ziemniaczane,
Slovak – zemiakové placky, haruľa or nálečníky,
Czech – bramborák or cmunda,
Hungarian – tócsni,
Romanian – tocini or tocinei,
Swiss – rösti or röschti
Swedish – rårakor
German and Austrian – Kartoffelpuffer, Reibekuchen, Reiberdatschi, Erdäpfelpuffer, Erdäpfellaibchen
British – tattie fish
Jewish – latkes or latkas,
Yiddish – לאַטקעס,
Hebrew – לביבה levivah, plural לביבות levivot,
Persian – kuku sibzamini
Latvian – kartupeļu pankūkas,
Lithuanian – bulviniai blynai,
Luxembourg – Gromperekichelcher,
Irish – boxty
Korean 감자전 gamja-jeon
Ingredients
6

potatoes

(about 5 to 6 ounces each)

1

onion

1

egg

½

cup

sifted wheat flour

Salt and freshly ground black pepper

Vegetable oil

for frying

Sour cream

for topping
Instructions
Grate potatoes and onions. The onions not only make the pancakes delicious and lush, but also prevent the potatoes from darkening.

Add eggs, flour, salt and pepper and mix well. The potato and onion juice might seep out into the bowl, so periodically tilt the bowl to pour it out.

Place tablespoon-sized dollops of potato mixture into a well oiled, preheated pan. Press down on each derun lightly with a spatula, and fry on medium heat on each side until golden brown, about 3-4 minutes per side.