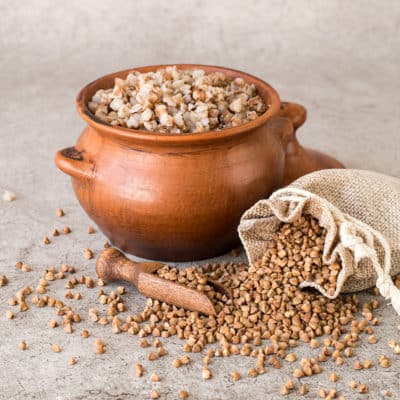 Buckwheat
Buckwheat is not commonly found in Western cuisine, but Eastern Europeans are obsessed with it, and it was a staple of the Soviet kitchen. If you ever find yourself unable to push open a door or lift a heavy item in the presence of someone who grew up in the Soviet Union, they'll likely tease you: "What's the matter, didn't eat your kasha today?" So if you're not the self-deprecating type, better eat up.
Ingredients
1

cup

buckwheat groats

1

tsp

butter

½

tsp

salt

2

cups

water
Instructions
Put the buckwheat in a pot and rinse well with cold water until the water runs clear. Soak up excess water with a paper towel.

If your buckwheat is untoasted, toast it in a dry pan over medium heat for 2 to 3 minutes, stirring constantly. You'll know it's untoasted if it's light or greenish. Toasted buckwheat has an earthy brown color. In a saucepan with a thick bottom, melt the butter over low heat, add salt and buckwheat. Stir well so the buckwheat is evenly coated in butter.

Meanwhile, boil the water, then pour it into the saucepan.

Cover the saucepan with a lid and cook on low heat for about 15-20 minutes. Do not lift the lid because the buckwheat is not being boiled so much as steamed, and you don't want the steam to escape.

When buckwheat is finished cooking, remove from heat and leave covered for 10 minutes.