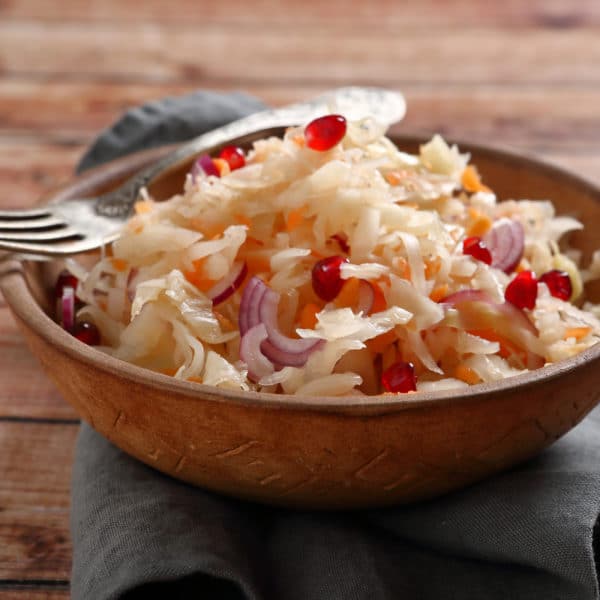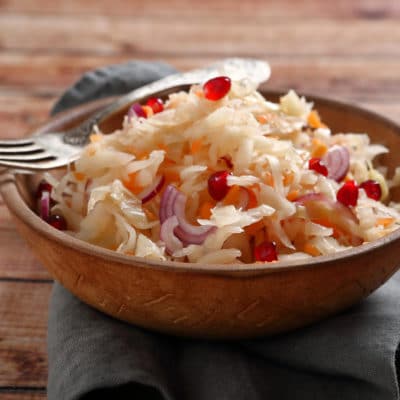 Homemade Sauerkraut
Properly prepared pickled cabbage is juicy and crunchy. Make it a salad by adding sliced onions and vegetable oil, or serve as a side dish with potatoes or other foods. Or, most deliciously, eat out of the jar while standing in front of the fridge.
Ingredients
1

head

white cabbage

(about 3½ pounds)

2

carrots

coarsely grated

1½

tbsp

kosher salt

or to taste
Instructions
Wash cabbage thoroughly, remove the outer leaves and core, cut in half, then shred into very thin strips about 2 to 3 inches long. 

Put the cabbage in a bowl large enough for easy mixing. Massage the cabbage for a few minutes. It will shrink a bit.

Begin putting cabbage and carrot handful by handful into a big enamel bowl (make sure it's sterile). Add salt in parts. This will make it easier to evenly mix all the ingredients.

Ram the mix down firmly. It needs to be kept under a weight, so place a plate on it and on the plate put a heavy weight (a several-quart jar with water works well). Keep at room temperature.

Once or twice a day, pierce the cabbage with a chopstick (or something similar) to the bottom of the pan. This is how the carbon dioxide, resulting from the fermentation of the cabbage, is released. Otherwise, the cabbage might acquire a bitter taste.

During the pickling process, the cabbage foams slightly and the brine rises about a half inch. When cabbage stops releasing gas and the brine descend back, then the process of pickling is completed. The length depends on the temperature in the room; usually it takes 3 to 4 days.

After the cabbage is ready, put it in a clean glass jar, ram down tightly, and close with a lid. Keep refrigerated.
Notes
When choosing a cabbage, make sure that it is fresh, dense and juicy.