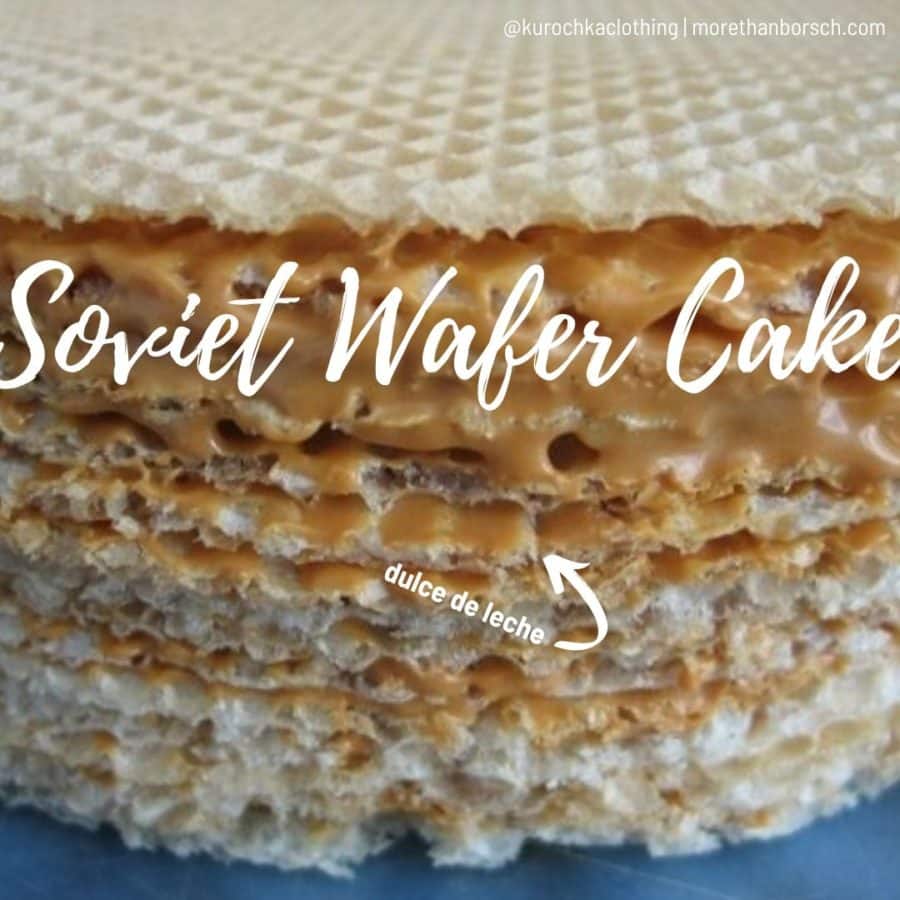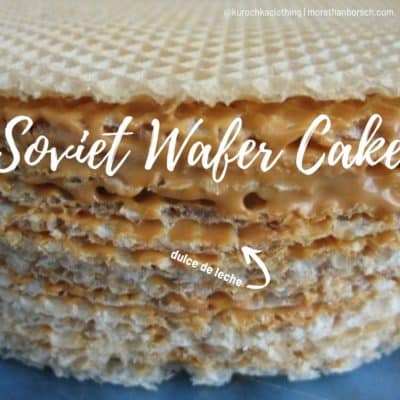 Soviet Wafer Cake
This wafer cake, a Soviet invention, is very easy to prepare—no baking required!—and it's delicious; the sweetness of the condensed milk (which turns into dulce de leche after cooking) is balanced out by airy wafers. It really is the perfect dessert (or midnight snack). 
Ingredients
1

(14-ounce) can

condensed milk

1

stick

butter

softened

1

pack

plain wafers (about 7 to 10 pieces)

about 8 inches in diameter

3½

ounces

chocolate

optional

2

handful

walnuts

finely crushed, optional
Instructions
Place unopened can of condensed milk into a pot with water, so that it's fully submerged. Let boil for around 2 hours (the longer you boil, the darker and sweeter it becomes. But don't let all the water boil out, because the can may explode).

Cool it in cold water for several minutes, then open and pour the contents into a bowl. Add softened butter and mix well until the mixture becomes a smooth cream.

Put two full tablespoons of the mixture on each wafer and spread evenly. Stack wafers on top of one another.

Decorate wafer cake with chocolate glaze: melt chocolate in microwave or the stovetop, pour it on top of the cake and smooth the surface with a knife. Alternately, you can grate chocolate and sprinkle it on top of the wafer stack. You can sprinkle crushed walnuts on top. You can also set aside one of the wafers, crush it finely, and sprinkle it over the top. Anything works – just use your imagination.

In order for the wafers to absorb the flavor, let the cake sit at room temperature for 2 to 3 hours, under a weight, and then place in the refrigerator for another 2 to 3 hours or overnight.