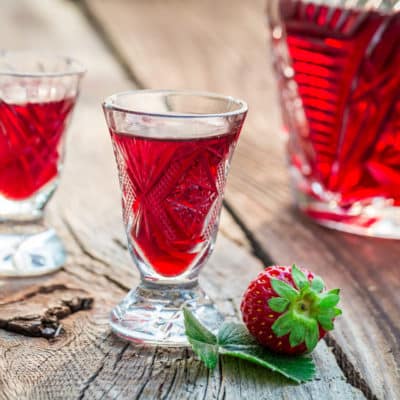 Strawberry Cordial
Traditionally, cordials were known as "home wine." In Russia, there was a lack of vineyards but an abundance of fruit. This fruit was covered in sugar (longer ago, it was honey) after which it released its juices and began to ferment. Eventually — usually in one to six months — this resulted in a heavenly, fruity beverage with a low alcohol content (about 12 to 20 proof). Nowadays, cordials are stronger, made with vodka, but no less delicious.
Ingredients
18

ounces

strawberries (about 2 cups)

cut into halves or quarters

½

lemon

½

liter

vodka

1

cup

sugar
Instructions
Place strawberries into a glass jar, and squeeze lemon over them. Add vodka.

Leave the jar in the sun to infuse for 1 week, shaking it once a day.

After a week, filter the vodka through a cheesecloth and set aside strawberries. Put the vodka into the refrigerator for 3 days.

In the meantime, make strawberry syrup: in a jar, mix sugar with strawberries. Close the jar and shake well. Keep the jar in the sun (or other warm place) and shake daily until all the sugar is dissolved.

Squeeze the syrup mixture through a cheesecloth and mix resulting liquid with the vodka.

Leave the mixture in the sun or other warm place for 2 to 3 more days until it becomes a cordial.